Carson Palmer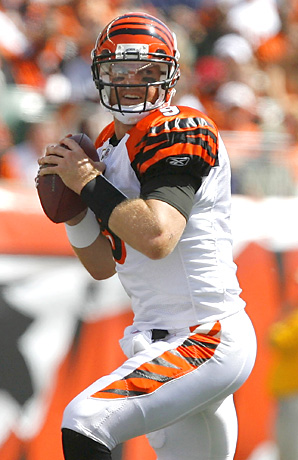 Ever since the news broke on Sunday that Carson Palmer wanted out of Cincy the debate has started as to whether or not the Redskins should pursue him via trade. My simple answer is a big fat NO! Grant Paulsen also weighed in with a no vote and has some valid points in a post you can find right here. I would just like to say a couple more things about Palmer.
He's 46-51 as a starter. If we want a QB to lead us to a 7-9 record we've already got Rex Grossman.
Although he hasn't been sacked a lot the past couple years, he's not a very mobile QB since his knee injury. Put him behind our offensive line and he gets sacked 50 times.
In 2008 doctors recommended Palmer get "Tommy John" surgery on his throwing elbow. He decided against it and elected to have the injury heal with rest. Do you really want to trade away draft picks for a guy with an elbow hanging by a thread? He's clearly lost zip off his fastball.
I mentioned on Twitter (follow me) the other day that I'd rather have Carson Daly as the Skins QB, to which Rich Tandler added he'd rather have Johnny Carson. It's not a good idea at all for the Redskins to pursue Palmer, hell I'd rather have Rosey Palmer.
Cheers and Hail