Redskins: Mid-Season Report Cards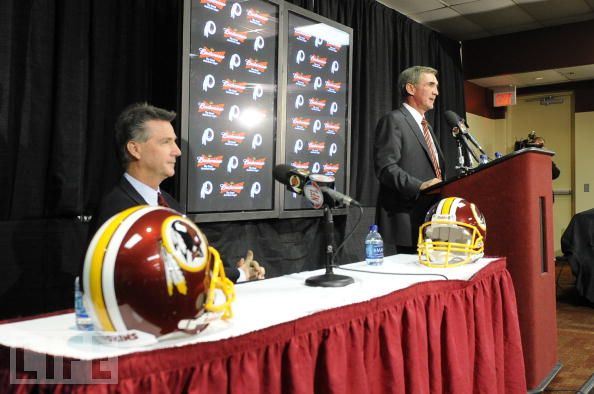 We are at the half-way point of the Redskins 2010 season which happens to coincide with the bye week, so it's an excellent time to hand out first half report cards. This will be a multi-part series, today we focus on the front office and coaching.
Front Office – D
Positives: Drafting Trent Williams and the free agent signings of Ryan Torain, Brandon Banks and Keiland Williams.
Negatives: Besides Williams the rest of the draft sucked. Free agent signings Josh Bidwell and Joey Galloway equally sucked. The Jammal Brown trade looks like a bad deal. Oh, let's not forget about Larry Johnson and Willie Parker.
Comments: I still can't believe the 3 guys listed under positives were players the front office cut in the last month. On a positive note, Bruce Allen has done an excellent job repairing the organization's relationship with previous players…unfortunately that has no impact on winning games. For the moment I'm going to leave the Donovan McNabb trade alone, although that deal may turn out to be bad as well.
Coaching – D
Positives: The team has matched it's win total from last year. The Redskins also have 4 conference wins and are 2-0 against the NFC East.
Negatives: The defense changed it's scheme and went from a top 10 defense to nearly last in the NFL. The offense is mediocre and not much better than last years version. The head coach appears to hold serious grudges against players (McNabb, D. Thomas, Haynesworth and Dockery) which may affect the Redskins having the best players on the field.
Comments: Mike Shanahan's handling of Albert Haynesworth was terrible. His decision to bench McNabb was unbelievably terrible. Why isn't Dockery playing? Why was Devin Thomas not given a chance? Why is Joey Galloway on the team? Why am I yelling at my computer?
Cheers and Hail