WTF is Shanahan Thinking?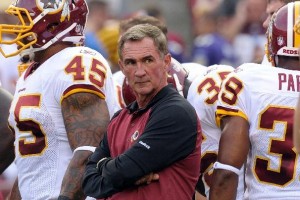 Mike Shanahan has 1 playoff victory as a head coach in the NFL over the past 13 years…ONE! That's one more than I have! He won a couple of Super Bowls with John Elway and Terrell Davis 2 decades ago and he's been living off that resume ever since. So far his decision making as head coach of the Redskins has been nothing short of terrible. His personnel decisions have been equally shitteous. Shanahan has total control, do not think for a second that Bruce Allen has any input on personnel decisions. Bruce's job is to make Danny look good…that's his job description.
This is a list of Shanahan's F-ups so far, this is not a complete list…only a screen shot of the big picture of his debacles.
Pulling Donovan McNabb was one of the worst the worst coaching decisions I have ever witnessed in 30 years of watching football. The guy has won 65% of his career games and has dozens of 4th quarter comebacks. It's not like you're down 3 scores with a quarter to go and you're looking for a "spark". You're down 6 with 2 minutes to go and you want Rex Grossman? Really?

The Redskins #1 and #2 running backs have been released by the Redskins in past few weeks. Ryan Torain and Keiland Williams were RELEASED! Not deactivated…released! Exposed to the rest of the league, where would we be without them?

The Redskins most dynamic and exciting player, possibly the best player on their team the last few weeks…was also recently cut. We RELEASED Brandon Banks on September 25th!

6 out of the last 7 TD's scored by the Redskins on offense or special teams were scored by players that have been released by the Redskins in the past few weeks.

The handling of Albert Haynesworth has been screwed 6 ways from Sunday. The guy is a force on the field and you've paid him $40 million in the past 18 months…swallow you're pride and play the guy!
I can't even start on play-calling and game-planning…I'm too angry to write anymore. Old Wooden Teeth needs to get his shit together.
Cheers and Hail