Beltway Bloggers Talkin Crazy
This is part 2 of Redskin blogger/media types making our 2010 Redskins predictions. Jamie Mottram from Mister Irrelevant (MI), Kevin Ewoldt from Hogs Haven (HH), and Danny Rouhier from 106.7 The Fan (DR) join me to make "crazy" predictions that may or may not come true. Yes, Danny is a little long winded and has a lot going on inside his head.
We made these predictions a couple weeks ago, I'm just getting around to posting them. That's why HH and I are already correct on our predictions below.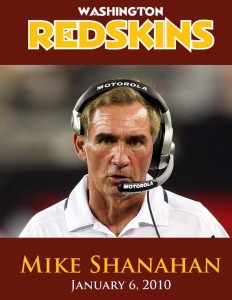 Craziest Skins prediction you have that may actually come true?
DR – On an all out blitz, behind a shaky offensive line that has sustained an injury, forcing a well below average backup into action, McNabb gets hurt. He tries to come back too soon and gets hurt worse like Boobey Miles in Friday Night Lights. The Skins turn to Rex Grossman, fall apart, go 0-6 in the division and finish with an identical record to last year. Shanahan and Allen get fired and Vinny Cerrato is re-hired by Snyder as the GM. The team increases parking costs to $90 per game for the satellite lots.
FP – The Redskins go 11-5, win the NFC East and make a deep run in the playoffs.
HH – Carlos Rogers will shatter his career INT record (2) with 4.
MI – Mike Shanahan is one-and-done after this season with Kyle Shanahan taking over in 2011.
Craziest Skins prediction you have that has no shot of coming true?
DR – The new offense clicks and is a symphony of effective running and passing. The O-line plays all 16 games together with no major injury and the defense creates enough turnovers to beat some people early through the brutal first part of the season. The team gains momentum and avoids any major injury to key starters and stands at 11-4 heading into the final game of the year vs the Giants. It gets moved to primetime and we beat them 38-13 for the #2 seed in the NFC. We beat Atlanta who makes it to the divisional round and then travel to Green Bay for the NFC title game. We are down 3 with the ball and McNabb scores on a naked bootleg diving for the pilon. We lose in the Superbowl to the Chargers in the ultimate revenge for Norv Turner who actually pulls his pants down in the locker room to reveal a sign that says: 'kiss my a$$ Snyder' on his butt.
FP – Carlos Rogers plays the entire year without dropping a sure interception.
HH – The Redsksins employ a Special Teams trick play week 1 versus Dallas.
MI – Albert Haynesworth is the 2010 NFL Defensive Player of the Year.