Happy Bday Larry Centers & Santana Moss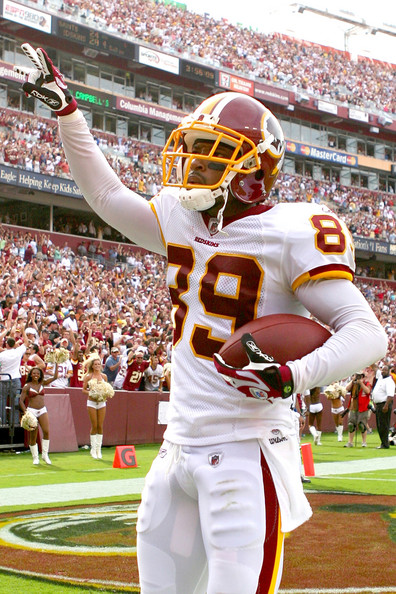 Happy birthday Santana Moss. Santana is entering his 6th season as a Washington Redskin. He has averaged 70 receptions and 1,005 yards a season in DC, pretty solid numbers. Despite playing banged up a lot and being an undersized WR, Santana has missed just 4 games in the past 5 years which happens to be the number of games he may be suspended to start the 2010 season (hopefully not.) Santana will most likely crack the Redskins all-time top 5 career leaders in both receptions and yardage during the 2010 season. He's provided many big time and memorable plays in his career, below are some highlights of those plays. Happy 31st Mr. Moss.
Happy birthday Larry Centers. Larry played 2 seasons for the Redskins from 1999-2000, appearing in 31 games. #37 caught 150 balls in those 2 seasons, none bigger than the 33 yard TD in overtime against the 49ers that clinched the 99′ NFC East title for the Skins. The 3-time Pro Bowler holds the record for most career receptions by a running back with 827. I still rembemer the bizarre experience Larry encountered at the Pro Bowl in 1996…some say it was a religious experience or he was momentarily posessed like in the Exorcist…my guess is he was tripping on some serious drugs. Happy 42nd Mr. Centers.
Cheers and Hail