Giiiilbeeeert!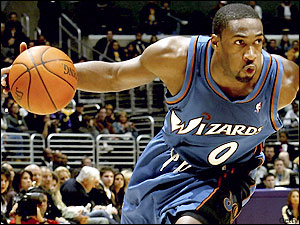 Gilbert's back and so am I! Gilbert returned after several operations and a couple lost seasons…I'm returning after a long weekend in VA and several cases of beer.
The Wizards beat the Mavericks in Dallas last night in impressive fashion to start the 2009-10 season. Gilbert looked like his old self, driving thru the lane and drawing contact. Pulling up for open jumpers…and a super fast first step that got him around defenders all night long. All that amounted to 29 points and 9 assists! After several failed comeback attempts over the last 2 years, it appears Arenas is finally healthy. Arenas initially wanted to rehab his knee at his own pace with his own regimen. His personal choice for rehabbing his knee included riding his bike to a football field where he ran 40 yard dashes with a parachute strapped to his bank…weeks after one of his surgeries. Later he would bash the organization for them allowing Gilbert to push himself too fast…I guess they should have hired him a babysitter. But, that appears to be in the past and I'm glad to see my favorite NBA player healthy and back on the court.
And although it's only the first game and maybe I'm just looking for something to be optimistic about with my Redskins playing so poorly…I think the Wizards can be a top 4 or 5 team in the East. Flip Saunders unveiled his rotation last night and it varied quite a bit from what we have seen in the past. Nick Young got a DNP-Coach's Decision last night after playing in all 82 games last year and averaging over 22 minutes. Mike James also received a DNP and Javale McGee played less than a minute. Their replacements (Oberto, Miller & Foye) were 12-20 from the floor and 3-6 from 3 point land. Deshawn Stevenson played only 17 minutes (that's a good thing) specifically in a defensive role…perfect. And if Andray Blanche is anything close to what he was last night (20pts 7rebs) that will be a tremendous boost for the Wizards.
Again, way too early to get overly excited but the Mavericks were 32-9 at home last year…that was an impressive win and performance for Gilbert and the Wizards last night. Let's hope there's more to come…
Cheers and Hail