Posts Tagged 'Tim Hightower'
Second caller saying Hightower is like a faster John Riggins. It's just too much. I got to get out of here. It's too much.less than a minute ago via web
Favorite
Retweet
Reply
chad dukes
chaddukes
Not once, but on multiple occasions today Redskins fans called in to the LaVar & Dukes show to proclaim Tim Hightower as a "faster John Riggins". One caller went so far as to say Hightower was better than Riggins. Some Redskins fans never cease to amaze me…they're ready to put a guy in the Ring of Honor after 10 carries and 44 yards, in a preseason game. I can understand why Chad Dukes couldn't take listening to that nonsense any longer.
I'll admit that I'm pretty excited about Hightower's potential in this offense as well. He seems to be a great fit and he's blessed with a nice combination of power and speed. I'm also educated enough to realize that we traded a late round pick and a part-time 35 yr old defensive end for him. The Cardinals were going to cut Hightower, that's a fact. Hightower was drafted in the 5th round, that's a fact. Hightower has a fumbling problem, that's a fact. Can we let this guy get a few regular season games under his belt before we start comparing him to a Hall of Famer who's the franchise's greatest running back of all-time?
For the record, it's a myth that John Riggins didn't have speed. Riggins was a 2-time Kansas State champion in the 100 yard dash, setting a state record with a time of 9.7 seconds. In comparison, Hightower had a personal best time of 4.59 seconds in the 40 yd dash at his combine. I guess folks remember Riggo as a "3 yards and a cloud of dust" type runner…but if Riggo broke one to the outside he was hard to catch.
BTW, when you search for Tim Hightower in google search the first keyword to pop up is fumble. He's had 10 fumbles in the past 2 seasons. The Redskins and Hightower may be downplaying those fumbles but I'm telling you right now, it's a problem.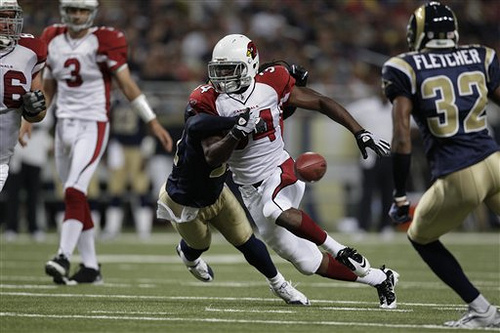 Cheers and Hail