Posts Tagged 'tebow'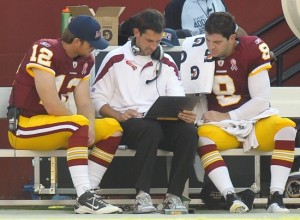 To all the people nationwide who say that Tim Tebow's not a NFL quarterback and is hard to watch…I say this, have you watched a Washington Redskins game lately? Sure, I know it's sometimes painful to watch Tebow throw the football, it's obvious that he's not a NFL caliber passer. However, it's hard to argue with the results and on paper he looks a helluva lot better than our Florida Gator, Rex Grossman and our career clipboard holder John Beck. In fact, I'm convinced that Beck is the one who doesn't belong in the NFL and Grossman doesn't belong being a NFL starting QB.
Time Tebow now has 5 starts this season. Here's a look at his stats in comparison to our dynamic duo during the last 5 games:
Tebow: 4W-1L, 6 TD's passing, 1 Int, 341 yards rushing, 1 TD

Beck, Grossman: 0W-5L, 2 TD's passing, 10 Int's, 43 yards rushing, 2 TD's
Despite his problems throwing the football, Tebow has the 6 TD's passing in 67 fewer attempts. It should be noted that the Denver Broncos have totally adapted their offense to Tebow's strengths, something the Redskins have refused to do on defense or offense under Mike Shanahan. Rather than cater to a players strengths or weaknesses the Shanny has continually tried to fit a square peg into a round hole…and the proof is plain to see.
Cheers and Hail