Oct 6-8 Redskins Bdays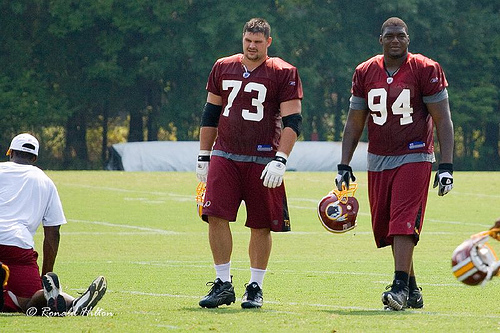 Happy birthday Jimmie Johnson. Jimmie played 3 seasons for the Redskins from 1989-91 appearing in 37 games. Mainly a blocking TE, Jimmie had 22 receptions and 4 TD's during his tenure. Jimmie came to the Redskins from Howard University. Jimmie played 10 seasons overall in the NFL and has a Super Bowl ring from the 91' season. After retirement, Jimmie got into coaching and is currently the TE's coach for the Minnesota Vikings. Happy 43rd Mr. Johnson.
Happy birthday Ryan Boschetti. Ryan played parts of 5 seasons for the Redskins from 2004-2008. The ultimate survivor, he was an undrafted out of college and was cut on several occasions by the Skins…but he kept coming back. He appeared in 22 games during his tenure, starting 2. Ryan was dubbed "the best gambler I know" by Chris Cooley based upon his prowess at the casinos and poker tables. Ryan currently is a free agent after spending training camp with the Raiders. Happy 28th Mr. Boschetti.
Happy birthday Martin Mayhew. Martin spent 4 seasons with the Redskins from 1989-1992. He appeared in 58 games and intercepted 13 balls during his tenure, including 7 int's in 1990. Martin started the 91' Super Bowl at cornerback, opposite Darrell Green. After retirement Martin earned his degree from Georgetown University Law. Martin is currently the General Manager of the Detroit Lions where he has made some very good moves since taking over for Matt Millen. Happy 44th Mr. Mayhew.