Happy Redskin & Oriole Bdays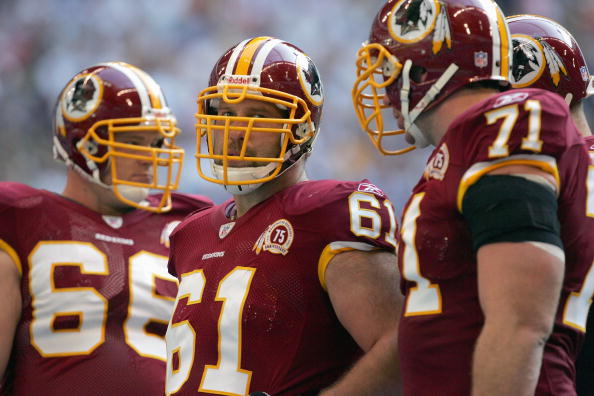 Happy birthday Casey Rabach. Casey is in his 5th season as the starting center for the Redskins. He was the main target of our 2005 free agent class as Joe Gibbs was on the telephone recruiting him at 12:01AM on 3/1/05 (the earliest possible time to contact free agents.) Since that time Casey has been a rock on the O-line, starting 65 out of a possible 66 games. He's earned the respect and admiration of his fellow lineman and teammates for his gritty play on the field. Casey has helped the Redskins running attack and the Skins have had a 1,000+ yard rusher every season during his tenure. Casey is a free agent after this season, I'm curious to see if the Skins bring him back (I hope they do.) Happy 32nd Mr. Rabach.
Happy birthday Joe Washington. "Little Joe" played 4 seasons in DC from 1981-1984. Despite appearing in just 43 games as a Redskin, Joe was voted to the 70 Greatest Redskins team. He was an exciting running back in the mold of Priest Holmes or Marshall Faulk. Normally a 3rd down and change of pace back to Riggins, Joe did see playing time as the featured back in 81'. That season he rushed for 916 yards and caught 70 balls for 558 yards. Joe led the NFL in receptions in 1979 with 82. Joe starred for Oklahoma in college, was a finalist for the Heisman twice and is a member of the College Football HOF. Joe retired after the 85' season and did some local TV work in the Washington area. Check out his old helmet here. Happy 56th Mr. Washington.
Happy birthday Kevin Millar. Kevin played 3 seasons for the O's from 2006-2008. A gritty and hardnosed player, Kevin played OF, 1B and DH for the O's. He hit .252 with 52 HR's and 199 RBI's during his Oriole tenure. He is a great teammate who bonded well with the Orioles players and helped reintroduce "Orioles Magic" back to Camden Yards. Still beloved in Boston, he threw out the first pitch of game 7 of the ALCS, an odd scene…considering he was a member of the Orioles at the time. Kevin currently plays for the Toronto Blue Jays. Happy 38th Mr. Millar.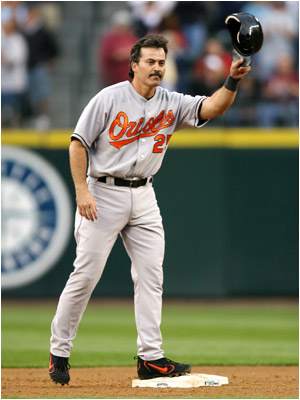 Happy birthday Rafael Palmeiro. Oh Rafael where have you gone? Rafael played 7 seasons for the O's hitting 223HR's and driving in 701 (averaging 30-100 a season.) He had one of the sweetest swings I've ever seen as well as a great glove at 1B. He is one of only four players (Aaron, Mays & Murray) to total at least 3,000 hits and 500 home runs. We all know it ended badly for Rafael, I hope one day it all blows over and he can get some of the admiration he deserves. Maybe as a member of the HOF wearing an O's cap? Happy 45th Mr. Palmeiro.
Cheers and Hail