Redskins vs Giants: My Thoughts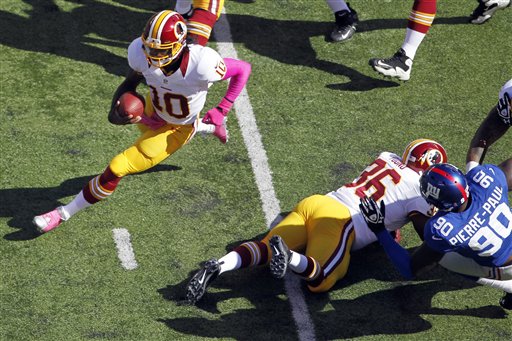 First, I'll state the obvious. Robert Griffin III is a complete bad-ass. Forget about him being a rookie, he's in the argument for who's best player in the NFL.
Jason Pierre-Paul warned RG3 not to "bring it to my side." Well, RG3 did…and I think an equipment guy had to pick up JPP's jock.
The Redskins first drive of the game was 17 plays and 93 yards. The drive resulted in a FG which was a let down, but wow! The 2nd drive was 8 plays for 80 yards and a TD. This offense is for real.

Alfred Morris. He's come out of nowhere to be a Pro Bowl caliber running back. When Larry Brown is comparing himself to Albert and Joe Theismann is comparing ALF to John Riggins…we got something here.

The Redskins punted 1 time, I repeat the Redskins punted 1 time!
I can only assume that London Fletcher is hurt. He had 20+ tackles a couple weeks ago but looked…dare I say old…today.
People love to hate on Reed Doughty. Sure he's a liability in coverage but I still love the guy. He came back from a strained knee (doubtful to return per the Redskins) and made some big tackles.
Santana Moss with 2 big plays showing that he's still a weapon. Santana Moss with a bad fumble, showing that he still knows how to do that too.
Josh Wilson had trouble with Victor Cruz all day. If Eli Manning hadn't decided to throw like Nuke Laloosh when throwing to a wide open Cruz, Cruz may've had 3TD's and 200+ yards easily. That being said…wtf was Madieu Williams doing on the 77 yarder?
Hate to see Fred Davis lost for the season. With the exception of Pierre Garcon, (what's his deal) Davis is the Redskins best receiving threat. Davis was good for 15+ yards every time he touched the ball. In related news, 90% chance Fred Davis is getting high right now.
Logan Paulsen, I see you…stay hungry my friend.
How does a team rush for 248 yards and lose the game? Oh yeah, turnovers.
Game on the line, late in the 4th quarter and a huge 3rd down…we dial up an option play to Niles Paul? Are you kidding me with this?
Christopher K Cooley, back away from the kiln.
Here's what matters most, playing front yard football with my 7 year old while imitating RG3…
Cheers and Hail