The Redskins: What A Difference A Year Makes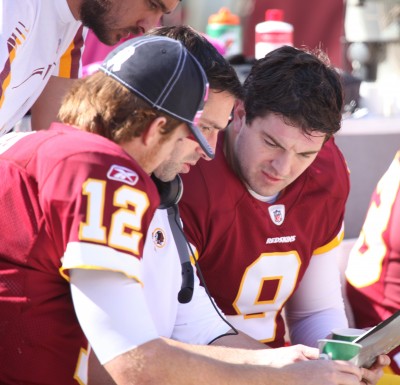 A year ago today the Redskins lost to the Eagles 20-13 in a game that featured 4 Rex Grossman interceptions. Grossman's performance prompted fans and the media to spark a quarterback controversy…was it time to bench Rex for John Beck? Yes folks, a year ago today we were debating which of these horrible quarterbacks should be our starting quarterback. Either way we were going to lose, pick your poison.
I think I nailed the debate in this post that I wrote last October entitled "Becked If We Do, Becked If We Don't." I even foreshadowed a 5 win season and asked for Andrew Luck. I've never had much luck, which fortunately for Redskins fans resulted in Robert Griffin III. And while the Redskins have the same 3-3 record as this time last year, a lot has changed since the John Beck era.
The Redskins actually led the Vikings by 19 points last Sunday. A 19 point lead…I didn't know how to act! Of course they're still the Redskins so they nearly lost the lead and I had to bite my nails until the end. The Redskins had never had a lead that large under Mike Shanahan. In fact, the Skins had failed to score more than 19 points in 17 out of 32 games under Shanny.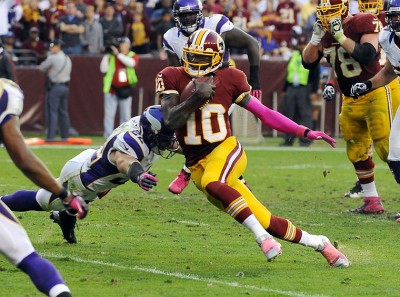 RGIII ran for 138 yards and 2 TD's against the Vikings. Last year, our "wonder twins" (activate, form of a sucky QB) combined to rush for 54 yards…for the season. Yes, instead of arguing over which QB sucks less, Redskins fans can now argue about our QB being the best player in the league. Amazing.
And while I'm not ready to think that this team is ready to contend for a playoff spot, I'm incredibly excited about the Skins future. I'm happy to know that I'm not even a year into a decade of having a franchise QB. That being said, the Skins could be a playoff team this season if the defense gets straightened out. After saying for 3 seasons that the Redskins could be a playoff team if they could just score 20 points a game…now we score 30 and have trouble winning. Thanks Haslett.
What a difference a year makes RGII makes.
Cheers and Hail