In Defense of Randy Edsall: One Former Player's Take On Why Danny O'Brien Is An Amateur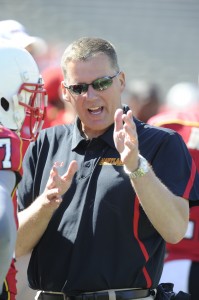 I don't know Danny O'Brien. And as a rule I avoid attacking amateurs.  But that is just what his behavior and actions are: Amateur.
Does that reek of unprofessionalism, a passing and uninformed comment more likely heard atop a bar stool, than eminating from the likes of blogger extraodinaire Rob Lunn? Sure.  But while my pedigree may include articles published on GQ, Deadspin, ESPN, or even a fulltime job writing for NESN (kill me) the part of my resume that most readily defines me, nay, qualifies me to comment on college football's happenings is that I managed to play (survive) five seasons of it.  More importantly, these seasons were spent under the man that the DC Press is now so quick to refer to as a tyrant, that is of course when not haphazardly writing grandiose depictions of Maryland's head coach delivering rousing speeches to a room of chairs.  Clever.
So I suppose this is where we are at, 2-10 now qualifies the press/media/ivory tower occupiers to look down upon College Park with a disdain for the football program and it's leadership I have not before seen.  Where do I start?    I could point to a lot of ills that Edsall inherited, including but not limited to a scorned coach-in-waiting, a departure of 20-something seniors, and a boat load of NFL Talent (this past season's departures include, precisely zero NFL caliber athletes), or the fact that long time and beloved coach Ralph Friedgen's last move was to exit less than gracefully or squash the controversy surrounding said departure with even an ounce of dignity.
Combine that with his wife handing out "consoling cookies" in the wake of a loss to lowly Temple and well, Danny O'Brien is the least of our concerns.
But of course, that's why I'm here, to tell you why Danny O'Brien is an unrivaled prick, plotting, conniving asshole, right?  Wrong.  But the story is almost too juicy to resist: Starting Quarterback, contentious coaches, and a media hungry for something, anything, to hang a poor season on. So this is it.
I can't speak to the inner workings or dynamic of Maryland Football, but per one conversation with an NFL scout familiar with both his current charge and that in Storrs, "He's running the program the exact same way as he did in Connecticut"  Well, I'm sure not "exact same" is accurate considering that Edsall inherited an NCAA hours-allotment restriction from the previous regime, but if all else remains constant, this is the same coach who won two Big East titles,  took me and my brothers to five bowl games, graduated an NCAA leading amount of players, and transformed the culture and expectation to win at football in Connecticut.
And all he ever asked of us? Commitment.  To do the little things right EVERY day, to do them right EVERY time.  And to play each play like it was the last play we'd ever play. These mantras meant; be clean shaven, sit up straight in meetings, turn your cell phone off, no earings at team functions, wearing the proper team issued gear and obeying the rules and expectations on the field and in the classroom.
These are the same qualities and regulations that are now being cited as evidence of his unbridled tyranny.  News flash; these are the things that spawn successful members of society; good sons and brothers and fathers.  The people of high moral fiber and character that achieve success despite the odds.  All he asks is that you buy in.  All the way in.
But as is often the case with any change, it is and was met with resistance.  The University of Maryland was no different.  Beginning with their starting quarterback.  A season opening win against Miami, then some struggles and a refusal to take ownership.  I'd defy anyone to find a quote from Dan Orlovsky, Matt Bonislowski, DJ Hernandez, Tyler Lorenzen, or Zach Frazer where they didn't take ownership of a loss or for struggles.  And conversely, an instance where they did not credit on the field success to their offensive line, receivers or running backs, or that stout UConn Defense.
But no such leadership or accountability from Danny O'Brien.  None.  Instead, the rumors swirled about his former recruiting coach and scorned coach-in-waiting James Franklin talking behind closed doors about O'Brien joining them at Vanderbilt the following season.
As most of us know, the NCAA requires and athlete to sit out a season if he transfers laterally or upwards in terms of competition.  That is unless said athlete has already matriculated.  He can than pursue his "studies" and eligibility elsewhere without penalty.
Let me be clear, I'd say that less than .5 percent of all the athletes I've known at the Division I level could effectively navigate the language and strategy of the NCAA's by-laws, let alone effectively execute such a decision without a little "coaching."  Am I insinuating something? Absolutely.
Also, the commitment aspect of buying in, of giving it your all, means that the school will renew your scholarship (per the direction of the head coach and athletic department) and since these are "amateurs" we are talking about, all they ask in return is your unwavering dedication to the program and its goals.  Do I disagree with this model? Absolutely, I think that scholarships should be guaranteed, but they're not and thus the crux of the situation.
So, Danny O'Brien was committed.  His scholarship renewed, and a day later, the commitment reneged.  His last semester paid for and yet he was no longer a part of the program.  So he would graduate then transfer to the program of his choosing, with two years of prime eligibility.
And now the question is "why is Randy Edsall blocking poor Danny-O?  All he wants to do is join his recruiting coach and get a good education!"  Simply put, Danny O'Brien, is playing the victim, when in reality he is simply sowing the seeds of his actions.  He did not do the right thing, or the little things, right.  He didn't own his dissatisfaction with his head coach, the direction of the program or his standing as a starter.  No, instead he schemed and manipulated the system.
Albeit, a system that I would whole heartedly agree exploits its athletes.
So, we can look to Randy Edsall as the evil doer, the guy who won't let this kid get the education he wants.  Or we can look at it as I do, his hand was forced.  He had a QB who wouldn't buy in, an exit-ing coach(es) who were undercutting his authority and in my opinion, most likely scheming for said QB behind closed doors, simply put these sort of actions should not stand.
So where does that leave Maryland?
Well, if things are "the same as they were at UConn" then Edsall is just beginning Spring Ball and the 2012 season with what will be his first season with "his guys."  If I know Coach, the "leave the body, take the jersey" mentality is fully in place; if you can't do your job and be part of the team concept then they'll find someone who can.  The cancers have been cut out and it's time to see what can be accomplished in College Park without the inmates running the asylum. And I'm excited to see what Maryland can do on the field and in the ACC.
Where does this leave O'Brien?  He'll play out his eligibility and eventually be an NFL prospect and the character issue will come up and he'll have to answer to a line of questioning about the circumstances of his departure.  The same questions will be posed to the tightly knit coaching community, one known for brutal honesty, and then we'll see how it all plays out on (un)drafted day.
Rob Lunn is a former defensive tackle for the University of Connecticut.  He owns and operates his own blog Thoughts From a Fat White Guy. Follow him on twitter @TheFatWhiteGuy