Redskins Fans Are Outnumbered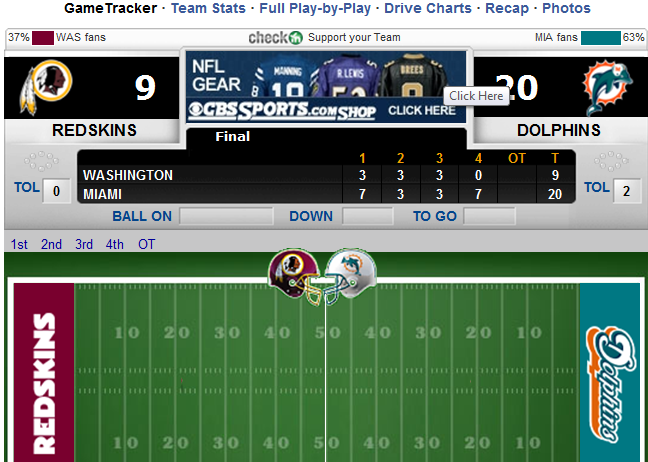 Unfortunately, I have to work every other Sunday which forces me to "watch" the Redskins games on the Internet. I choose to follow the games at www.cbssports.com, as I've tried all the different sites and CBS is more user friendly and real time than other sites. CBS has a feature which allows you to log in to show your support for the team that you're rooting for. I'm here to tell you that while the Redskins are 5-9 on the field, we as Redskins fans are getting our asses kicked off the field.
Growing up in NOVA I was surrounded by Redskins fans. My whole family roots for the Skins and most of my friends did. Sure, there were some Cowboys fans around, as well as some random 49er, Raiders and Giants fans…but it was 75% Redskins fans. The Redskins also dominated the Carolina's and had a strong presence all the way south to Georgia and Florida. Now that I live in Florida I can safely tell you this, Redskins fans are in the minority. Redskins fans have either jumped ship or just don't care anymore.
It's evident in the "Support Your Team" feature on CBS Sports. Redskins fans have outnumbered the opponents fans in just 2 of 14 games…defeating only the Cardinals and Rams…2 teams that are terrible and have moved multiple times in their histories. Here's an example of how outnumbered Redskins fans have been in terms of % of fans:
SF 72 WAS 28
DAL 72 WAS 28
BUF 70 WAS 30
NE 68 WAS 32
MIA 63 WAS 37
PHI 57 WAS 43
CAR 56 WAS 44
SEA 56 WAS 44
NYJ 54 WAS 46
NYG 51 WAS 49
Over 32,000 fans have casts their votes so the sample size is pretty substantial. What really bothers me is a horrible Carolina team that I considered to be from "Redskins Country" has more fans supporting them…also a Dolphin team that was just 2-7 when they played the Skins had way more fan support.
I'm not sure what the margin or error is here, but my guess is it's a pretty good gauge. I can tell you this, when I see someone running around the streets of Tampa, FL wearing Redskins garb, 1 of 2 things happen. 1) I take a closer look and realize the person I think is a Skins fan is actually wearing Florida State paraphernalia. Or, 2) the Redskins fan and I are like Tom Hanks and Wilson from 'Cast Away'.
I have no doubt that the Redskins have lost a substantial amount of fans over the last 10-20 years. I'm just sitting here wondering if they can ever win them back, or can they win a whole new crop of fans in the future? I hope they do, the only way to get the fans is to win.
Cheers and Hail