Jabar Gaffney's Twitter Faux Pas #2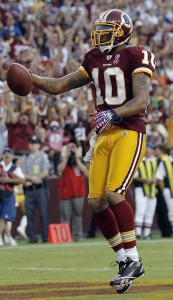 Jabar Gaffney has had a solid year on the field for the Redskins. Traded for Jeremy Jarmon (who was cut by the Broncos) in the preseason, Gaffney is having a career year and will most likely end the season as the Redskins leader in receptions and receiving yards. He's also entertained announcers and bloggers with the squirrel he's smuggling in his pants. The NFL uniform police actually asked Gaffney to stop stuffing his pants with a sock, to which Gaffney had to reply that it wasn't a sock (true story).
Anyway, that's not what this post is about. This post is about the entertainment Gaffney has provided on Twitter. New to Twitter, it didn't take long for Gaffney to tell a Cowboys fan to "get a life or kill urself." As a Redskins fan who doesn't take Twitter comments too seriously, I find this quite amusing. Despite his promise that he was "done wit this twitter shit," Gaffney has continued to tweet. It was this past weekend when Gaffney dropped this tweet in response to his teammate and friend Donte' Stallworth, who happens to be the guy who convinced Gaffney to join Twitter.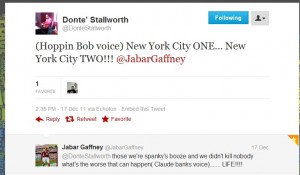 As a person who has an uncanny ability to tell jokes that are inappropriate, I can relate well to Gaffney's tweet. On the surface the tweet is harmless and it's inappropriateness is unintentional. Stallworth and Gaffney are merely quoting lines from the movie 'Life' starring Eddie Murphy and Martin Lawrence. The problem I see here is that Stallworth actually has killed somebody, while under the influence of booze! Fortunately for Stallworth he had a much better attorney than Rayford Gibson and Claude Banks…Stallworth served just 30 days in jail.
Cheers and Hail