NFL Players & Autocorrect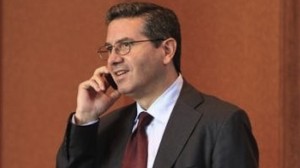 Autocorrect…what a pain in the ass. I've found it to be an incredible inconvenience on my phone until yesterday. I was trying to tweet the word Flacco and it kept autocorrecting to flaccid. This made me chuckle, it also caused my warped mind to start thinking…what other players out their have an interesting autocorrect?
This is totally juvenile, I know…which makes it right up my alley. All of the autocorrected names below are 100% real. I have a Verizon Droid and when I type in the player's name the corresponding autocorrect comes up. I've decided to go ahead and give my thoughts concerning each player's autocorrect.
Gaffney = gag
I'm sure more than a few girls have.
Snyder = anus
Even my phone knows.
Orakpo = oral
I'm going to ask my wife for some Orakpo tonight.
Spurrier = sour
His time in DC sure left a sour taste in my mouth.
Shuler = shit
Every time he dropped back to pass I said this word.
Grossman = Friday
The day of the week when I don't mind that he's the Redskins QB.
Beck = neck
The 'necked' bootleg is his best play.
Torain = toes
As far as I know his toes are the only thing he hasn't injured in his career.
Flacco = flaccid
The Ravens offense has been a little flaccid this year.
Cutler = curl
Curled up in his coat is where you could find him during last years NFC Championship game.
Vick = cock
My wife thinks he is one.
Austin = sista
Miles certainly banged the right Kardashian sista.
Cheers and Hail