RJ: Training Camp Day 7
Reggie Jones is posting his training camp journal on this site, please check back often to follow Reggie on his journey.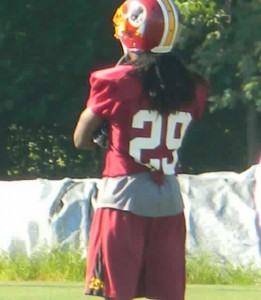 Woke up this morning a little groggy.. I haven't been sleepiN well. I'm assuming its from being excited to practice everyday… I realize this situation I'm in doesn't come often to people.. I truly am grateful to be able to compete at the highest level in my profession…
Practice started up and the rain came with it. The rain was a good change up from this 90+ degree weather we've been gettiN though..
I gave up a 4 yard completion today. I'm getting frustrated because I WANT them to throw the ball my way. I don't care if I have him covered THROW IT SO I CAN PICK IT!! lol
After practice i had a good lift in the weight room.. My body is feeliN good..
Always gettiN better..!
Got some encouraging words from Buchanan today.
P.s. I LOVE BEIN THE UNDERDOG!! Its a great spot to be in.
Goodnight World… #DREAMINabout: "#STAIRS" Every step i take i grow stronger.. and IM WALKING ON A ENDLESS STAIRCASE.. ~$HOWTIME