Playoffs + Redskins = .008% Happy
I was taking a look at the Redskins playoff success lack of success over the last decade when a few glaring statistics started slapping me in the face. Some of these items I find pretty amazing.
Since 2000 (11 seasons) there have been 121 NFL playoff games (including Super Bowl XLV) the Redskins have won 1 game. This means that over the last 11 years Redskins fans have had a reason to celebrate in January exactly .008% of the time. In other words, we're miserable this time of year. .008, chew on that!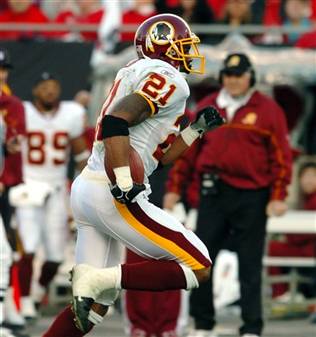 During the same span the Redskins have scored 4 offensive TD's. Santana Moss leads with 2. Sean Taylor's 51-yd fumble recovery for a TD against the Bucs in 2005 ties him with Portis and Randle-El with 1 touchdown each, Another way to look at this…you and I were 2 TD's away from leading the Redskins in playoff touchdowns over the last 11 seasons!
You and I are only 1 sack away from being the Redskins team leader in the playoffs since 2000. Omar Stoutmire, Phillip Daniels, Demetric Evans and Chris Wilson each had one.
Those 4 offensive TD's the Redskins have accumulated in 11 seasons? The Skins scored 5 TD's in 13 minutes of Super Bowl XXII.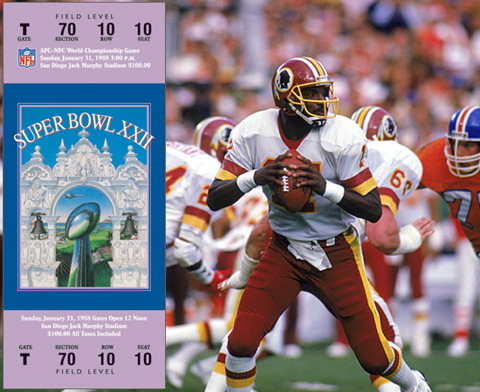 The 41 total points and 579 total offensive yards the Redskins have accumulated in 11 years also falls short of the 42 pts and 602 yds the Skins rolled up on the Broncos in XXII.
Tommy Maddox and Kelly Holcomb each threw for 3 TD's in a single 2002 playoff game. No Redskin QB has thrown for more than 2 total (Todd Collins) over the past 11 seasons.
Look, there's a lot more of these examples but you've probably gotten the point. It's been a rough decade. I'm hoping we can get this thing turned around starting in 2011.
*Editor's note: Dan Snyder purchased the Redskins in 1999.
Cheers and Hail