Hall Worthy? Moseley and Manley
As a Washington Redskins fan, I strongly believe that a lot more players should be in the NFL Hall of Fame. As a franchise we have made strides in the last few years with the additions of Green, Monk and Grimm, but there's still more players that are deserving of a bust in Canton. Over the next week or so I'm going to take an objective third party look at some of the players that I believe may be HOF worthy. Next up will be Charles Mann and Joe Theismann.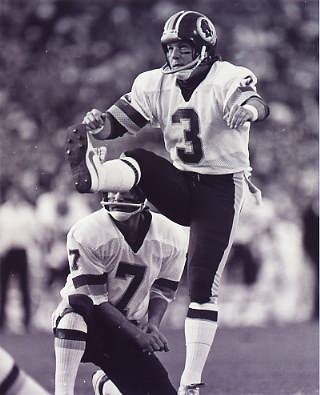 Argument for enshrinement: He's the only kicker to win a MVP award, which he did in 1982 and weighs heavily in my opinion. He led the league in FG's 4 times and was in the top 10 in scoring 8 different seasons. He also made 2 Pro Bowls and still ranks #22 on the NFL's all-time scoring list.
Argument against enshrinement: The career #'s are simply average when stacked against other kickers. Also, with the exception of the 82' season he was not very accurate, making only 65% of his FG attempts for his career.
Hall of Famer in my opinion? No, the numbers simply don't add up, in fact, they say that he's far from it. Thanks for 1982 though…and the hair!
Actual chances of making the HOF: Zero point zero.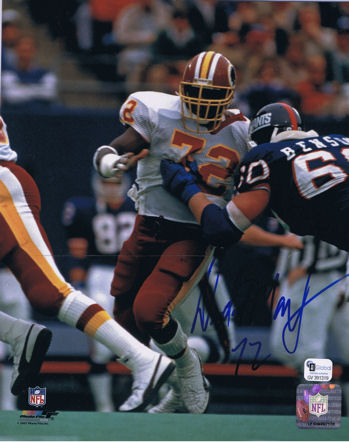 Case for enshrinement: He led all defensive ends in sacks for the entire decade of the 80's with 91. Ranks 25th on career sack list with 97.5. 2-time Super Bowl champion.
Argument against enshrinement: Career derailed by drugs and off field issues. Only made 1 Pro Bowl and was only in the top 10 in sacks 2 seasons.
Hall of Famer in my opinion? No, there's a long line of defensive ends in front of him with better numbers. 2 seasons when Dexter was playing at his highest level (82 & 87) were cut short by strikes. If those were full seasons and Dexter could have played an additional couple seasons drug-free, he'd have a strong case. But then again, if my aunt had nuts she'd be my uncle.
Actual chances of making the HOF: Zero
Cheers and Hail