Redskins Aquire Brown, O-Line Is Much Improved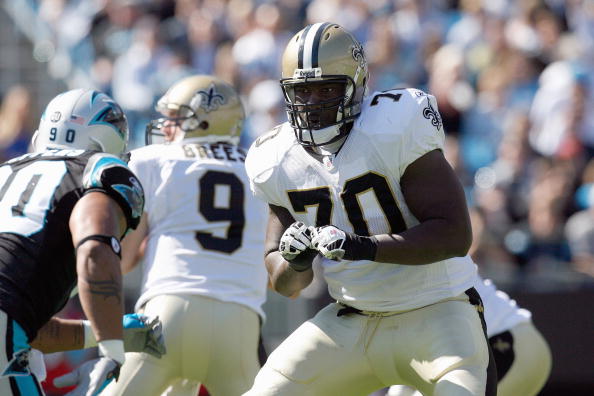 The Redskins traded for Jammal Brown on Saturday and immediately penciled him in as the starter at right tackle. Brown was a 2-time Pro Bowler for the Saints in 2006 and 2008 at left tackle, but will shift to the right side of the Redskins line while rookie Trent Williams protects McNabb's blindside. The aquisition of Brown also allows the Redskins to move the versatile Artis Hicks to right guard.
Your projected offensive line now looks like this:
LT T. Williams
LG Dockery
C Rabach
RG Hicks
RT Brown
That line is not going to make anyone forget about the Hogs, but it's a decent group that will certainly make you forget about this line:
LT Jones
LG Dockery
C Rabach
RG M. Williams
RT Heyer
The roster now has some depth at the position with former starters Heyer and Williams now backing up the G/T positions (where they should be). Plus Capers, Robinson, Montgomery, E. Williams, Rinehart and Lichtensteiger battling for the additional roster spots.
As for Brown, he missed all of last year with injuries and has been unhappy with his contract. It will wind up costing the Skins (at most) a 3rd rounder next year and a 6th in 2012. I think it's a great deal. We didn't overpay for a guy who's still just 29 yrs old and a Pro Bowl caliber player when healthy. The Redskins are also indicating that as of now, they aren't going to sign him to a long term deal. This is another sign that things are different these days at Redskins Park, and I have to say…I. Like. It.
Cheers and Hail